Teddy's earned all his racing points with just a single #2 placement in his career. He's also the first and only dog to win the National race meet twice, in 2009 and 2011! He is the top racing hound in ISWS history!
Teddy's running to poke me with his nose!
Gentleman Teddy has inherited his Mother Sheba's power, and sense of direction, and his Father Connor's speed, but luckily not Connor's unique running patterns. He's also inherited his Father Connor and HIS Father Fox's famous "pokey nose ". You never know when the pokey nose is coming, just that when you live with a dog with the pokey nose gene, nose poking is inevitable.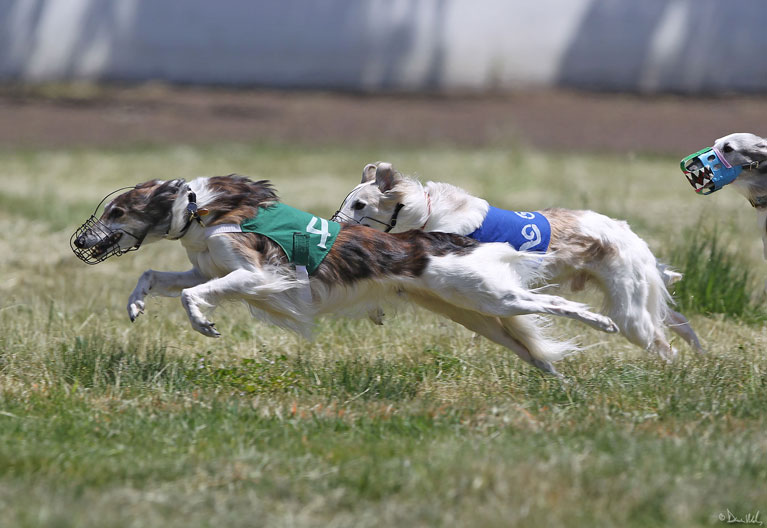 Teddy's second Nationals race win, Calistoga, Ca 2011 Photo Dave Mills Photography
In November of 08, was also part of the very first official oval track race for the breed in our brand new oval track program. He emerged the winner, with 21 meet points, 3 Nat'l (NOTRC) & 3 Ch (OTRC) points and one leg each on the intermediate titles of SJOR and SSOR ! He completed his SJOR in 09, and emerged the #1 oval track Silken in the breed.
Teddy running the first oval track meet for Silkens in Nov 2008 photo by Rick Steele , Scirocco Hounds
In 2010 Teddy was one of the first two Silken Windhounds to earn Oval Racing Championships on the same weekend!
Teddy approves of this whole beach thing, photo Steve Tradewell
Teddy had his first beach outing while on vacation with us in 2011, and had a blast charging up and down the cliffs and beach, and took his first dip in the Pacific! He tried to convince me we needed to take home a Pug pal he made fast friends with, but we assured him we were a fast dog only household, and if he really needed his own personal Pug, he'd have to talk to his Mom Terri when she got back home from her European trip!
Sally, Terri and Teddy with the number one ribbon! Photo Sciroccohounds
Teddy won the very first ISWS Open Field Coursing event in 2010 under judge Sally Barron, and was second in the very next ISWS OFC event under Bob Bulman!
Bob, Terri, and Teddy with the number 2 ribbon!
The next season we were officially a NOFCA breed, and could run competitvely in OFC with other Sighthounds!
Teddy at the Pacific Ocean, photo Steve Tradewell
I've been incredibly honored to have bred a dog like Teddy, and he really embodies my goals for breeding, an all around hound, good at all sighthound sports, and a dream to live with!
Teddy and Helios on one of the hills at Talisman
Teddy and his brother Helios are good friends, seeing each other at comptitions and socially regularly. They share many traits in common, speedy hobbies, enthusiasm for off leash hikes, and a love of chicken, though Helios appears to not have gotten the pokey nose.
Teddy thinks the cliffs and ice plants are just as cool as the beach! Photo Steve Tradewell.
Teddy at 7. 2 weeks
Teddy also easily finished his NAKC International Championship his first few months showing, and finished his ISWS Ch in 2010 at the Western Regional Specialty with a WD under judge Annie Chamberlain!
In 08, he became a father to three lovely daughters when bred to Kristull Daquiri at Morgandell Borzoi and Silken Windhounds , one of whome is already a multiple best of breed ISWS and NAKC show Ch, and another set of three lovely daughters on November 14th when bred to Kristull Xerox at Aigrette Silkens, you can see the puppies here! In 2012, Teddy fathered his first sons, with two boys and a girl in yet another litter trio! Puppies here!