"Maya"
Talisman Renaissance Platinum
Maya is living the California dream with her very own mini human playmate, doggie playmates, and a doting extended family. She started her show carreer at the Western Regional Specialty in 08, and will be strutting her stuff in the show ring in 09!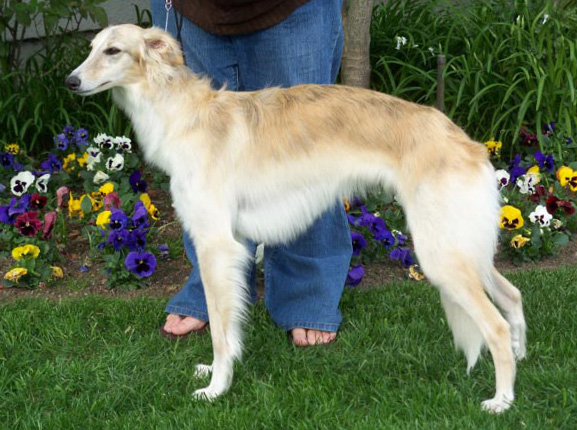 " Hope "
Renaissance Talisman Tantalum
Hope is living happily in the inland Northwest with Jeff and Peggy Bryan. She is a very mellow dog with tons of energy to run when the opportunity arises. She lives happily with three other dogs, two cats, two horses, two goats, a guinea pig, a parrot, and five children. She is a complete Daddy's girl and expects to be pampered. Her favorite activity this winter was chasing snowballs in deep snow and grabbing pocket gophers from below two feet of snow. Hope is the answer to seven years of waiting on her Daddy's part to have another Windhound. He is glad he waited for such a perfect companion. Hope has already been the inspiration for two new and future Windhound-adopting families!


Talisman Renaissance Osmium
Mr. Oz is the resident "Metals" kid here at Talisman. He's the rabble rouser, the trickster, the scamp, and beloved by all the hounds who retain a sense of humor, and an urge to play in the household. ( Meaning, exactly none of the old ladies <G>). He's an incredibly outgoing man-about-town, and his favorite way to greet strangers is the full body drape. He is about as social as a Silken Windhound can get, which is both fun and massively inconvenient for the humans depending on the situation. His goal in life is to get me to bring a toy dog playmate into the household for his continued amusement, and to be able to meet everyone in the world.
He's only been shown twice, but wound up taking Reserve Winners Dog at his first Regional Specialty show from the 6 to 9 month class!